Hotels

in Mongkok

A major commercial and residential district there are many hotels within or near Mongkok itself, including many extra good value as well as 5 star luxury choices. Here are some of the main choices to consider when staying in the area.

Royal Plaza Hotel - Newly renovated rooms are spacious and comfortable, includes rooms with bathtub or shower. Phone chargers available as standard in room! Situated on Prince Edward Road it is in the northern part of Mongkok just moments walk from the Flower Market Road and Bird Garden, it is also connected to the Grand Century Place shopping arcade with all types of shops, dining and entertainment under one roof.

The Cityview - On Waterloo Road at the southern border of Mongkok this popular hotel is on the corner of Nathan Road and in a minutes walk from the MTR station at Yau Ma Tei. Free wifi and shuttle bus to AirportExpress Kowloon Station are available.

Metropark hotel - Directly situated beside the Prince Edward MTR station and with the Airport CityFlyer bus A21 stopping directly outside this well established hotel it couldn't be more convenient for transport. With a great buffet breakfast and unbeatable location it is well worth the price.

Acesite Hotel - A no-frill budget hotel the Acesite gives unbeatable value for money in a central location for Mongkok shopping and sightseeing.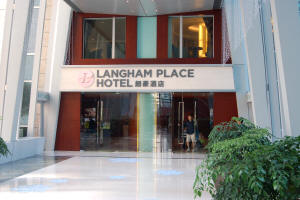 Langham Place Hotel - A luxury 5 star hotel situated in the middle of the district this is part of the Langham Place Mall which contains global brands and local shops as well as plentiful dining and entertainment options. The high tower gives wonderful views over the city from the rooms, and the outdoor garden allows a open view at the height of neighbouring rooftops. Being just across the road from the Mongkok MTR station entrance it and just a block away from Nathan Road it has great transport options.
Hotel MK - And ideally located budget hotel this basic choice is named for the district and is the perfect place to use as a base to sample the shopping and dining of Mongkok. Though the hotel has modern facilities such as wifi it sticks to the basics to allow you to have a good price in a good location.
With Hong Kong's Excellent public transport system, and with Mongkok well placed on MTR (metro train) lines it is also practical to stay elsewhere in the region even if your business is within Mongkok. Check out our list of other hotels in Hong Kong which are worth considering.