Hotels in
Hong Kong
There are a few hotels right within the Mongkok district, but of course Hong Kong has hotels all over. So if you can't find the right place to stay within Mongkok try some of these nearby options elsewhere in Hong Kong, plus a few special hotels from all over.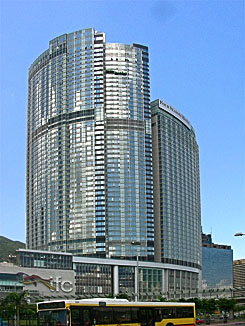 Four Seasons Hong Kong - This 5 star hotel located in the Central Business district of Hong Kong (pictured) is located on top of the IFC Mall and connected by that to the International Finance Centre towers I and II. With indoor and outdoor pools, a 24 hour gym and a world class spa this is a unbeatable place to stay. Choose a suite on the 42th floor for wonderful views of the Victoria Harbour every day.
The Mira Hong Kong - After being rebuilt and renaming this hotel on Nathan Road that was once a popular destination in the 1960s has had a resurgence and is now one of the top choices in Kowloon. Overlooking the greenery of Kowloon Park and featuring an indoor spa pool the very modern décor extends from public areas to the luxury and elegant rooms.
Marco Polo Hong Kong Hotel - Situated in Tsimshatsui just a minutes walk away from the Star Ferry pier this grand hotel is part of a large shopping complex that joins with the Ocean Terminal where cruise lines dock. With Heritage 1888 just along the road and the Hong Kong China City pier for ferries to China also reachable by walking inside the same complex it is a one stop vacation hotel. Just three stops on the Tuen Wan MTR line from the nearby Tsimshatsui MTR Station to Mong Kok Station it is also close by.

Silka Far East Hotel - Just a half hour walk from Mongkok this modern Chinese hotel is situated in Tuen Wan, this hotel has a free shuttle bus back and forth between Mongkok and the hotel which makes it a great choice. Overlooking the gardens of the Sam Tung Uk Museum the hotel offers a surprising green city view.

Ibis Century Inn Hotel - Located in the North Point this modern hotel has easy access to the Eastern island corridor highway system for good access to the rest of Hong Kong island. Or the MTR from North Point to Monkok requires just one change and takes a little over half an hour.
Island Pacific Hotel - In the Western district of Hong Kong Island this small city hotel has great food and accommodation and is walking distance to many interesting sights including the historic old Western Market building which now houses fabric outlets.
Maxan Harbour Hotel - This unusually located hotel is on Tsing Yi Island, just across the bridge from Kowloon and just 15 minutes in a taxi from anywhere in Mongkok. Also conveniently located for the airport and Disneyland it is a great choice.