Other
Districts
Visit some of the other districts in Hong Kong while you are here, with Mongkok being a transportation hub and right in the centre of Hong Kong it's easy to reach other intersting parts of Hong Kong whether it be for a half day trip or more. Check out some of these possibilities.
Mongkok is not the only shopping district in Hong Kong, there are many and while Mongkok has the unique and perfect combination for all visitors it is also worth checking out some of these altneratives for some particular specialist interests.
Causeway Bay -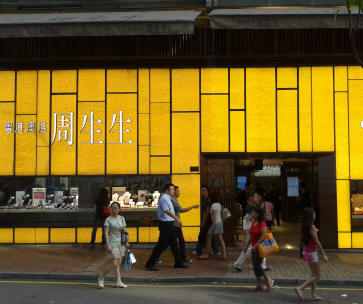 Located on Hong Kong island this up market shopping district was once famed particularly for Japnaese Department stores, but today only Sogo and CitySuper remain. But these influences have lingered on with more Japanese inspired fashions, foods and decore than other parts of Hong Kong. While Sogo itself might be a little staid for today's young visitors it is just across the path from The Island Beverly which is one of the must-go to arcades for chekcing out local independant designers and funky fashions from Japan, Korea and Europe. From Times Square to the World Trade Centre Mall there are no shortage of inside shopping locations in Causeway Bay, but it's the street shops, stalls and restaurants that make it one of the most lively street scenes around. Watch out for the billboard holding advertisers walking in the streets pointing to interesting discount stores high up in some of the tower blocks in the area. Then find Jardines's Cresent, which is a kind of miniture Ladies Market, just around the corner from a giant Apple Store!
Wanchai - Home of the Hong Kong Exhebition and Convetion Centre, the Golden Bauhenia monument and the historic Wanchai Post Office this part of Hong Kong has now become a shopping mecca for authentic Chinese furniture, picture framing and Toys! Check out the "Toy Street" which is packed with toy shops, have a meal in a converted historic Pawn Shop, or in check out the outlet shopping near Southorn Playground or check out some specialist shops like Kung Fu Supplies Company at 192 Johnston Rd, the Wanchai Computer Centre at 130 Hennessy Rd, Pro-Dive upstairs at 127-131 Lockhart Road or the Needlework Club on the first floor or 467 Hennessy Rd! website
Sham Shui Po - From the Golden Shopping Centre which does computer hardware and software through to the Apliu Street Flea Market which sells electronic components, second hand tools and photography equipment Sham Shui Po is a very off-beat shopping district. Throw in uniquely Chinese street foods from Egg Waffles to Stinky Beancurd and you know that it is a must see for the traveller who wants to see it all. Wholesale fabric and garment traders and button, ribbon and sewing accessory shops are also here. website
Tsimshatsui - Everything from Rolex Watches through Levi Jeans to Nikon and Canon Cameras and Halal Food to authentic Cantonese Dim Sum you'll find everything for a visitor to experience in TST. The main street of Nathan Road holds many great brand name shops, but venture out into side streets and find them packed with options both local and international. website
Outlying Islands - Hong Kong is made up of islands, over 200 of them, and while most are un inhabited many have small towns on them which are less developed than the centre of Hong Kong and allow you to step back in time. Buy some of the handicrafts on Cheung Chau or explore the temples of Lantau.