Hong Kong
Attractions
Although Mongkok holds some of the most important attractions in Hong Kong, including Ladies Market, the Flower Market, Goldfish Street and Sneaker Street, there are of course many interesting attractions in nearby parts of the region, and indeed all over Hong Kong.
Although one of the major cities of the world the S.A.R. also holds a strong position as a green city due the over 40% of land area which is given over to Country Parks, and the many rural delights to be found both in the New Territories and on the Outlying Islands.
Here are some major and smaller attractions to consider visiting while you are staying in Mongkok.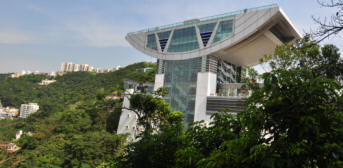 Victoria Peak - The Classic view of Hong Kong Harbour is from the view points on Victoria Peak (pictured). Don't miss this great historic experience, views, shopping and wonderful walks through the quiet wooded paths right in the centre of Hong Kong Island just above the city itself. website
Wholesale Garment Street - Cheung Sha Wan Road is just north of Mongkok and is where the wholesale garment showrooms are located. Originally selling garments made in Hong Kong they are mostly now representative offices of factories in China, but despite their shop-like appearance they are actually trade outlets. However they are a great place to browse for a fashion enthusiast, and if buying in at least moderate bulk (e.g. 10 items) they are happy to deal with walk in customers. website
Antiques Street - Over on Hong Kong Island this small alley way is official Upper Lascar Row, sometimes "Cat Street", but always known for antiques. Right next to historic Man Mo Temple this is a must see, but hard to fine even with a map. Read the website for details on how to get there. website
Fashion Outlet Street - Now somewhat overtaken by the outlet malls such as CityGate at Tung Chung the original Fashion Outlet area on Granville Road is still very active and a great place to get brand name accessories and clothes at discounts via reputable shops. website
Outlying Islands - Hong Kong has over 200 islands of which most are unpopulated, but a few are not just inhabited but have become major locations for outings. Visit Lantau island to see the Giant Buddha, or Lamma to enjoy the rural village life, while Cheung Chau for beaches and seafood.
Wanchai - Once famed as a girlie bar district this historic area of the city still has plenty of nightlife, but also fine dining and trendy bars. With a mix of residential, commercial and dining and entertainment it is all of Hong Kong in miniature. Cheap commercial rents have attracted small start-ups and entrepreneurs adding to the cool and trendy feel of the area. website